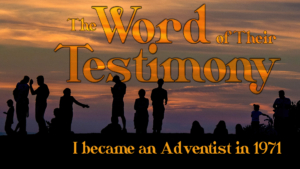 Dear Mr. Mesa,
My name is Stephen Porter. My home is in Las Cruces New Mexico. I am originally from St. Paul Minnesota. I moved to the Buffalo area of New York in 2015 and married a Christian woman (a Baptist). We lived there for two and a half years before moving to New Mexico. We now visit New York, during the summer to visit her grandbabies.
I became an Adventist in 1971 while in the Marine Corps. I was selected to be the Chaplains assistant and the protestant chaplain was a Seventh-day Pastor named Harold Eslinger. He showed me the truth and I was baptized into the church. Much to the chagrin of my first wife.
After leaving the service I put Christ in the back seat, promising Him I will return to Him one day. I did it to keep peace within my family. There was no peace. After 28 years of marriage I divorced my wife because she developed mental problems that I could not understand.
Two years later I married another woman (Lutheran). I did not go back to Christ but continued to promise Him I will. Again I didn't follow what I knew to be truth because of my family. She died 13 years later while we were on our last big vacation. (We knew she wouldn't be around long.) After her funeral I made the commitment to God to remove Him from the back seat and have Him drive the car. 43 years have since passed since my falling away.
Between my first and second wife I met a woman, we connected, but because of stuff happening she went her way and I went mine. After my second wife died I came in contact with her and told her of my decision to return to God and nothing was going to stand in my way again. She responded and told me that she too has decided to rely on God and had no problems with me doing so even though I was a 7 th Day Adventist. That is when I moved to the Buffalo area of New York. We then moved to New Mexico because of her physical problems. That is pretty much me in a nutshell.
While living in New York I attended the Buffalo Suburban Seventh-day Adventist Church. It was there I met and became friends with R and T. The church itself I found wanting and if it wasn't for R I would have been lost down that road that so many Adventists are traveling. After 8 months of study, R approached me on the trinity issue. I told him at the time that he will have a fight on his hands. He smiled and proceeded to show me, through the bible, and nowhere else, the truth. It took an hour
for my eyes to open up into a whole new way of worship. All I had to do was take off the trinity sunglasses and look into the brightness of Truth.
Since that time I have progressed to a point, where I thought, "Well that is all there is there". Until your videos on the angels. It brought so much more into focus, it simplified things, and it made all these so called mysteries disappear. I have rejoiced in the new truth. I think I know now how the people of William Miller's time felt when the book of Daniel was opened up to them.
This has helped me with my prayers, now knowing the delivery system God put into place. It has me understanding how my mind must conform to Gods mind. How I now have more choices than I had before. I now know how gifts and blessings are given. This gives me a new way to approach the One True God and His only begotten Son, Jesus the Christ.
Thank you Daniel Mesa for being an instrument of God.
In Christ,
Stephen Porter