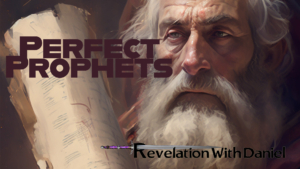 Are you perfect?
a.   Abraham – Gen. 12:10-19, 20:1-9
John the Seventh-day Adventist doubted his message – Matt 11:2-6
Peter walked contrary to the truth and was reproved for it – Gal. 2:11-14
Paul got angry and separated the disciples for work – Acts 15:36-41
David was a sinner and was used abundantly to prophesy – Psalms
Do you know of any prophets that have made mistakes?
Nathan the prophet – 1 Chron. 17:1-4
Jonah – 1-4
Are you always heard and heeded?
Noah – 7 souls in 120 years – 1 Pet. 3:20, Gen. 6:3
Jeremiah records, as I can see, only one person that listened – […]