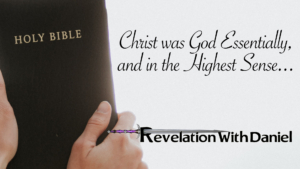 Taken from the only time this quote was not included in a compilation:
"The world was made by him, "and without him was not anything made that was made." If Christ made all things, he existed before all things. The words spoken in regard to this are so decisive that no one need be left in doubt. Christ was God essentially, and in the highest sense. He was with God from all eternity, God over all, blessed forevermore." RH April 5, 1906, par. 6
Ephesians 3:9 and Hebrews 1:1-2 speak clearly that God the Father created all things through His Son. John 1:1–3 says that all things were created by Christ, without Him nothing was made.
Therefore, over all creation, Christ was God in essence, or essentially. As ruler of all because of creation, He was in the highest […]