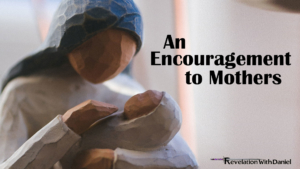 You are amazing.
You've been there through pain and joy, heartache and love for your children.
You've watched them from the first kicks in your belly to being brought forth on that beloved day of their birth!
You fed them and changed them, you clothed them and rocked them…
You put bandaids on their knees and elbows, and sang them to sleep.
You've prepared thousands of meals, helped them with salting their food, and cleaning up after them to show them how they too can lead a life that will be helpful to others.
You've prayed for and with your children, have brought them with concern and joy to your ascended Lord, and have watched them so many times just saying, "wow…"
You've been patient, kind, longsuffering, yet stern when necessary. None of us have done it perfectly, but God has blessed you […]