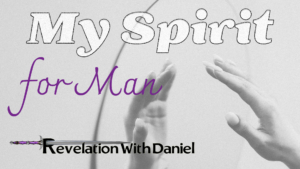 Every use of the phrase "my spirit" in the following verses can be understood as referring to the life or mind of man. Selected verses are used, as there are many more in the King James Bible, from which the following verses are taken.
Ask the question for each of the verses… "Did Jesus Christ, the Son of God, go through these things also?"
Man's spirit can be in anguish
Job 7:11 Therefore I will not refrain my mouth; I will speak in the anguish of my spirit; I will complain in the bitterness of my soul.
Man's spirit can be preserved
Job 10:12 Thou hast granted me life and favour, and thy visitation hath preserved my spirit.
Man's spirit can be committed into God's hand (See Luke 23:46)
Psalms 31:5 Into thine hand I commit my spirit: thou hast redeemed me, O LORD God of truth.
Man's spirit can be overwhelmed
Psalms 77:3 I remembered God, and was troubled: I complained, and my spirit was overwhelmed.
Man's spirit can make diligent search
Psalms 77:6 I call to remembrance my song in the night: I commune with mine own heart: and my spirit made diligent search.
Psalms 143:7 Hear me speedily, O LORD: my spirit faileth: hide not thy face from me, lest I be like unto them that go down into the pit.
Man's spirit can be poured out
Proverbs 1:23 Turn you at my reproof: behold, I will pour out my spirit unto you, I will make known my words unto you.
Man's spirit can be covered by other than of God's Spirit
Isaiah 30:1 Woe to the rebellious children, saith the LORD, that take counsel, but not of me; and that cover with a covering, but not of my spirit, that they may add sin to sin:
Man's spirit can have life (see John 10:10)
Isaiah 38:16 O Lord, by these things men live, and in all these things is the life of my spirit: so wilt thou recover me, and make me to live.
Man's spirit can be under God's Spirit
Isaiah 42:1 Behold my servant, whom I uphold; mine elect, in whom my soul delighteth; I have put my spirit upon him: he shall bring forth judgment to the Gentiles.
Man's spirit can have God's Spirit upon it
Isaiah 59:21 As for me, this is my covenant with them, saith the LORD; My spirit that is upon thee, and my words which I have put in thy mouth, shall not depart out of thy mouth, nor out of the mouth of thy seed, nor out of the mouth of thy seed's seed, saith the LORD, from henceforth and for ever.
Man's spirit can be heated
Ezekiel 3:14 So the spirit lifted me up, and took me away, and I went in bitterness, in the heat of my spirit; but the hand of the LORD was strong upon me.
Man's spirit can be troubled
Daniel 2:3 And the king said unto them, I have dreamed a dream, and my spirit was troubled to know the dream.
Man's spirit can be grieved
Daniel 7:15 I Daniel was grieved in my spirit in the midst of my body, and the visions of my head troubled me.
New Testament
Luke 1:47 And my spirit hath rejoiced in God my Saviour.
Man's spirit can be received by the Lord
Acts 7:59 And they stoned Stephen, calling upon God, and saying, Lord Jesus, receive my spirit.
Romans 1:9 For God is my witness, whom I serve with my spirit in the gospel of his Son, that without ceasing I make mention of you always in my prayers;
Man's spirit can be absent from the body, but present with others gathered together
1 Corinthians 5:3 For I verily, as absent in body, but present in spirit, have judged already, as though I were present, concerning him that hath so done this deed,
1 Corinthians 5:4 In the name of our Lord Jesus Christ, when ye are gathered together, and my spirit, with the power of our Lord Jesus Christ,
Consider Colossians

2:5, For though I be absent in the flesh, yet am I with you in the spirit, joying and beholding your order, and the stedfastness of your faith in Christ.
1 Corinthians 14:14 For if I pray in an unknown tongue, my spirit prayeth, but my understanding is unfruitful.
Man's spirit can be refreshed
1 Corinthians 16:18 For they have refreshed my spirit and yours: therefore acknowledge ye them that are such.
2 Corinthians 2:13 I had no rest in my spirit, because I found not Titus my brother: but taking my leave of them, I went from thence into Macedonia.