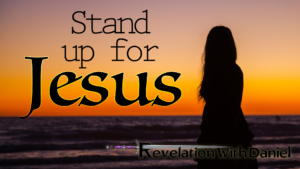 How do we receive light from God?
There are many ways, but one of the ways we receive light is through Bible study and prayer
Ps 119:105 Thy word is a lamp unto my feet and a light unto my path.
What happens when we reject light?
Example: Saul
Multitude of the Philistines
Israel was afraid
Samuel sets a time
Saul waits, but gets impatient
1 Samuel 13:8-13 And he tarried seven days, according to the set time that Samuel had appointed : but Samuel came not to Gilgal; and the people were scattered from him. [9] And Saul said, Bring hither a burnt offering to me, and peace offerings. And he offered the burnt offering. [10] And it came to pass, that as soon as he had made an end of offering the burnt offering, behold, Samuel came; and Saul went out to meet him, that he might salute him. [11] And Samuel said, What hast thou done? And Saul said, Because I saw that the people were scattered from me, and that thou camest not within the days appointed, and that the Philistines gathered themselves together at Michmash; [12] Therefore said I, The Philistines will come down now upon me to Gilgal, and I have not made supplication unto the Lord : I forced myself therefore, and offered a burnt offering. [13] And Samuel said to Saul, Thou hast done foolishly: thou hast not kept the commandment of the Lord thy God, which he commanded thee: for now would the Lord have established thy kingdom upon Israel for ever.
Here Saul didn't follow the light he had received, but if he would have repented, and humbled his heart, God would have still blessed him.
God, in His mercy, gave Saul another opportunity to learn the lesson of trust and obedience.
1 Samuel 15:3, 13-24 Now go and smite Amalek, and utterly destroy all that they have, and spare them not; but slay both man and woman, infant and suckling, ox and sheep, camel and ass. [13] And Samuel came to Saul: and Saul said unto him, Blessed be thou of the Lord : I have performed the commandment of the Lord. [14] And Samuel said, What meaneth then this bleating of the sheep in mine ears, and the lowing of the oxen which I hear? [15] And Saul said, They have brought them from the Amalekites: for the people spared the best of the sheep and of the oxen, to sacrifice unto the Lord thy God; and the rest we have utterly destroyed. [16] Then Samuel said unto Saul, Stay, and I will tell thee what the Lord hath said to me this night. And he said unto him, Say on. [17] And Samuel said, When thou wast little in thine own sight, wast thou not made the head of the tribes of Israel, and the Lord anointed thee king over Israel? [18] And the Lord sent thee on a journey, and said, Go and utterly destroy the sinners the Amalekites, and fight against them until they be consumed. [19] Wherefore then didst thou not obey the voice of the Lord, but didst fly upon the spoil, and didst evil in the sight of the Lord ? [20] And Saul said unto Samuel, Yea, I have obeyed the voice of the Lord, and have gone the way which the Lord sent me, and have brought Agag the king of Amalek, and have utterly destroyed the Amalekites. [21] But the people took of the spoil, sheep and oxen, the chief of the things which should have been utterly destroyed, to sacrifice unto the Lord thy God in Gilgal. [22] And Samuel said, Hath the Lord as great delight in burnt offerings and sacrifices, as in obeying the voice of the Lord? Behold, to obey is better than sacrifice, and to hearken than the fat of rams. [23] For rebellion is as the sin of witchcraft, and stubbornness is as iniquity and idolatry. Because thou hast rejected the word of the Lord, he hath also rejected thee from being king.
After Saul consistently refused to follow the light from God, eventually God stopped sending him that light. God wouldn't send him more light when Saul refused to follow the light that he had.
1 Samuel 28:4-7 And the Philistines gathered themselves together, and came and pitched in Shunem: and Saul gathered all Israel together, and they pitched in Gilboa. [5] And when Saul saw the host of the Philistines, he was afraid, and his heart greatly trembled. [6] And when Saul enquired of the Lord, the Lord answered him not, neither by dreams, nor by Urim, nor by prophets. [7] Then said Saul unto his servants, Seek me a woman that hath a familiar spirit, that I may go to her, and enquire of her. And his servants said to him, Behold, there is a woman that hath a familiar spirit at Endor.
Saul went to ask counsel of a demon, because he had rejected God.
In the battle, Saul ended up taking his own life.
1 Samuel 31:4 Then said Saul unto his armourbearer, Draw thy sword, and thrust me through therewith; lest these uncircumcised come and thrust me through, and abuse me. But his armourbearer would not; for he was sore afraid. Therefore Saul took a sword, and fell upon it.
What a sad end to a life that could have been used so powerfully for God, if he had just lived up to the light he had been given.
Religious leaders of Christ's day
Luke 7:29-30,33 And all the people that heard him, and the publicans, justified God, being baptized with the baptism of John. [30] But the Pharisees and lawyers rejected the counsel of God against themselves, being not baptized of him. [33] For John the Baptist came neither eating bread nor drinking wine; and ye say, He hath a devil.
Luke 20:4-7 The baptism of John, was it from heaven, or of men? [5] And they reasoned with themselves, saying, If we shall say, From heaven; he will say, Why then believed ye him not? [6] But and if we say, Of men; all the people will stone us: for they be persuaded that John was a prophet. [7] And they answered, that they could not tell whence it was.
They didn't accept the light they were given through John the baptist, and the refusal of light eventually led to them rejecting Christ and crucifying Him.
John 19:14-16 And it was the preparation of the passover, and about the sixth hour: and he saith unto the Jews, Behold your King! [15] But they cried out, Away with him, away with him, crucify him. Pilate saith unto them, Shall I crucify your King? The chief priests answered, We have no king but Caesar. [16] Then delivered he him therefore unto them to be crucified. And they took Jesus, and led him away.
Here is another sad example of what happens when people reject the light that God has revealed to them.
"God is dishonored when we do not receive the communications which he sends to us. Thus we refuse the golden oil which he would pour into our souls to be communicated to those in darkness"… RH July 20, 1897, par. 7
"A backsliding church closed their eyes to the signs of the times. God did not forsake them, or suffer His faithfulness to fail; but they departed from Him, and separated themselves from His love. As they refused to comply with the conditions, His promises were not fulfilled to them." GC 315.4
"Such is the sure result of neglect to appreciate and improve the light and privileges which God bestows. Unless the church will follow on in His opening providence, accepting every ray of light, performing every duty which may be revealed, religion will inevitably degenerate into the observance of forms, and the spirit of vital godliness will disappear. This truth has been repeatedly illustrated in the history of the church. God requires of His people works of faith and obedience corresponding to the blessings and privileges bestowed. Obedience requires a sacrifice and involves a cross; and this is why so many of the professed followers of Christ refused to receive the light from heaven, and, like the Jews of old, knew not the time of their visitation. Luke 19:44. Because of their pride and unbelief the Lord passed them by and revealed His truth to those who, like the shepherds of Bethlehem and the Eastern Magi, had given heed to all the light they had received." GC 316.1
What happens when we receive light?
Jeremiah 15:16 Thy words were found, and I did eat them; and thy word was unto me the joy and rejoicing of mine heart: for I am called by thy name, O Lord God of hosts.
What are we to do with light once we receive it?
It makes sense that, if the Word of God is the joy of our hearts, we would want to share it! If something makes you so happy, you would want to share it with everyone so they can experience the same joy that you experience!
Matthew 5:14-16 Ye are the light of the world. A city that is set on an hill cannot be hid. [15] Neither do men light a candle, and put it under a bushel, but on a candlestick; and it giveth light unto all that are in the house. [16] Let your light so shine before men, that they may see your good works, and glorify your Father which is in heaven.
Matthew 10:8 Heal the sick, cleanse the lepers, raise the dead, cast out devils: freely ye have received, freely give.
Once we receive light, we are to share it with others!
John 15:4-5, 8 Abide in me, and I in you. As the branch cannot bear fruit of itself, except it abide in the vine; no more can ye, except ye abide in me. [5] I am the vine, ye are the branches: He that abideth in me, and I in him, the same bringeth forth much fruit: for without me ye can do nothing. [8] Herein is my Father glorified, that ye bear much fruit; so shall ye be my disciples.
John 15:16 Ye have not chosen me, but I have chosen you, and ordained you, that ye should go and bring forth fruit, and that your fruit should remain: that whatsoever ye shall ask of the Father in my name, he may give it you.
We don't just abide in Christ, and that is it. When we abide in Christ, we will bear fruit just like He did.
Luke 8:15 But that on the good ground are they, which in an honest and good heart, having heard the word, keep it, and bring forth fruit with patience.
When we receive light we are to follow it, and share it!
After Jesus healed the demoniac, he had interesting instructions for him.
Mark 5:18-19 And when he was come into the ship, he that had been possessed with the devil prayed him that he might be with him. Howbeit Jesus suffered him not, but saith unto him, Go home to thy friends, and tell them how great things the Lord hath done for thee, and hath had compassion on thee.
I'm sure these men didn't know a lot about the Bible, but Jesus, instead of telling him to come with him so He could teach them before they did ministry, Jesus told them to go and share!
Here was a work for them to do, – to go to a heathen home, and tell of the blessing they had received from Jesus. It was hard for them to be separated from the Saviour. Great difficulties were sure to beset them in association with their heathen countrymen. And their long isolation from society seemed to have disqualified them for the work He had indicated. But as soon as Jesus pointed out their duty they were ready to obey. Not only did they tell their own households and neighbors about Jesus but they went throughout Decapolis, everywhere declaring His power to save, and describing how He had freed them from the demons. In doing this work they could receive a greater blessing than if, merely for benefit to themselves, they had remained in His presence. It is in working to spread the good news of salvation that we are brought near to the Saviour. The two restored demoniacs were the first missionaries whom Christ sent to preach the gospel in the region of Decapolis. For a few moments only these men had been privileged to hear the teachings of Christ. Not one sermon from His lips had ever fallen upon their ears. They could not instruct the people as the disciples who had been daily with Christ were able to do. But they bore in their own persons the evidence that Jesus was the Messiah. They could tell what they knew; what they themselves had seen, and heard, and felt of the power of Christ. This is what everyone can do whose heart has been touched by the grace of God. John, the beloved disciple, wrote: "That which was from the beginning, which we have heard, which we have seen with our eyes, which we have looked upon, and our hands have handled, of the Word of life; … that which we have seen and heard declare we unto you." 1 John 1:1-3. As witnesses for Christ, we are to tell what we know, what we ourselves have seen and heard and felt. If we have been following Jesus step by step, we shall have something right to the point to tell concerning the way in which He has led us. We can tell how we have tested His promise, and found the promise true. We can bear witness to what we have known of the grace of Christ. This is the witness for which our Lord calls, and for want of which the world is perishing. DA 339.4 – DA 340.1
Matthew 5:6 Blessed are they which do hunger and thirst after righteousness: for they shall be filled.
Do you get really hungry or thirsty from sitting around and doing nothing? No! For us to hunger and thirst after righteousness, we need to be active! If we are actively sharing what we know we will feel our need for more!
"Wherever there is life, there is increase and growth; in God's kingdom there is a constant interchange – taking in, and giving out; receiving, and returning to the Lord His own. God works with every true believer, and the light and blessings received are given out again in the work which the believer does. Thus the capacity for receiving is increased. As one imparts of the heavenly gifts, he makes room for fresh currents of grace and truth to flow into the soul from the living fountain. Greater light, increased knowledge and blessing, are his. In this work, which devolves upon every church member, is the life and growth of the church. He whose life consists in ever receiving and never giving, soon loses the blessing. If truth does not flow forth from him to others, he loses his capacity to receive. We must impart the goods of heaven if we desire fresh blessings." 6T 448.2
"The humble worker who obediently responds to the call of God may be sure of receiving divine assistance. To accept so great and holy a responsibility is itself elevating to the character. It calls into action the highest mental and spiritual powers, and strengthens and purifies the mind and heart. Through faith in the power of God, it is wonderful how strong a weak man might become, how decided his efforts, how prolific of great results. He who begins with a little knowledge, a humble way, and tells what he knows, while seeking diligently for further knowledge, will find the whole heavenly treasure awaiting his demand. The more he seeks to impart light, the more light he will receive. The more one tries to explain the word of God to others, with a love for souls, the plainer it becomes to himself. The more we use our knowledge and exercise our powers, the more knowledge and power we shall have." COL 354.1
What if we disguise our faith, take a middle position?
Hide it under a bushel?
Don't disguise your faith, that is denying Christ
Luke 22:54-62 Then took they him, and led him, and brought him into the high priest's house. And Peter followed afar off. [55] And when they had kindled a fire in the midst of the hall, and were set down together, Peter sat down among them. [56] But a certain maid beheld him as he sat by the fire, and earnestly looked upon him, and said, This man was also with him. [57] And he denied him, saying, Woman, I know him not. [58] And after a little while another saw him, and said, Thou art also of them. And Peter said, Man, I am not. [59] And about the space of one hour after another confidently affirmed, saying, Of a truth this fellow also was with him: for he is a Galilaean. [60] And Peter said, Man, I know not what thou sayest. And immediately, while he yet spake, the cock crew. [61] And the Lord turned, and looked upon Peter. And Peter remembered the word of the Lord, how he had said unto him, Before the cock crow, thou shalt deny me thrice. [62] And Peter went out, and wept bitterly.
Peter wanted to just fit into the crowd, he didn't want to be distinguished as a disciple of Christ. But, unlike Saul, once he realized his mistake he was truly sorry for the deed, not just the result.
"Peter had not designed that his real character should be known. In assuming an air of indifference he had placed himself on the enemy's ground, and he became an easy prey to temptation. If he had been called to fight for his Master, he would have been a courageous soldier; but when the finger of scorn was pointed at him, he proved himself a coward. Many who do not shrink from active warfare for their Lord are driven by ridicule to deny their faith. By associating with those whom they should avoid, they place themselves in the way of temptation. They invite the enemy to tempt them, and are led to say and do that of which under other circumstances they would never have been guilty. The disciple of Christ who in our day disguises his faith through dread of suffering or reproach denies his Lord as really as did Peter in the judgment hall." DA 712.1
We need to realize that being undecided, and not standing up for the truth, is never a safe position for the Christian.
Matthew 12:30 He that is not with me is against me; and he that gathereth not with me scattereth abroad.
"The truth is everything to us, or it is nothing. Let those who want to make a name in the world, go into the world; but let those who would serve God, obey God, and not man. In the great conflict between faith and unbelief, the whole Christian world will be involved. All will take sides. Some may not apparently engage in the conflict on either side. They may not appear to take sides against the truth, but they will not come out boldly for Christ, through fear of losing property or suffering reproach. All such are numbered with the enemies of Christ; for Christ says, "He that is not with me is against me; and he that gathereth not with me scattereth abroad." RH February 7, 1893, par. 12
Let us remember what Christ said: Matthew 10:32-34 Whosoever therefore shall confess me before men, him will I confess also before my Father which is in heaven. [33] But whosoever shall deny me before men, him will I also deny before my Father which is in heaven. [34] Think not that I am come to send peace on earth: I came not to send peace, but a sword.
What are the consequences of receiving and sharing the light we receive from God?
Luke 12:51 Suppose ye that I am come to give peace on earth? I tell you, Nay; but rather division:
Receiving and sharing the truth could cause division, but truth is more important than unity.
John 17:11 And now I am no more in the world, but these are in the world, and I come to thee. Holy Father, keep through thine own name those whom thou hast given me, that they may be one, as we are.
We are to be one, like the Father and Son are one. They are one in mind character and purpose.
Philippians 2:5 Let this mind be in you, which was also in Christ Jesus:
The Father's mind was in Christ, so if we are to be one as they were, we will be unified in mind, character, and purpose. That is not unification regardless of truth, but unification into truth!
Luke 14:16-17, 20 Then said he unto him, A certain man made a great supper, and bade many: [17] And sent his servant at supper time to say to them that were bidden, Come; for all things are now ready. [20] And another said, I have married a wife, and therefore I cannot come.
We see in this parable that some people will reject the gospel invitation because they are afraid of division, but let that not be us!
The man who said, "I have married a wife, and therefore I cannot come," represents a large class. Many there are who allow their wives or their husbands to prevent them from heeding the call of God. The husband says, "I cannot obey my convictions of duty while my wife is opposed to it. Her influence would make it exceedingly hard for me to do so." The wife hears the gracious call, "Come; for all things are now ready," and she says, "'I pray thee have me excused.' My husband refuses the invitation of mercy. He says that his business stands in the way. I must go with my husband, and therefore I cannot come." The children's hearts are impressed. They desire to come. But they love their father and mother, and since these do not heed the gospel call, the children think that they cannot be expected to come. They too say, "Have me excused. "All these refuse the Saviour's call because they fear division in the family circle. They suppose that in refusing to obey God they are insuring the peace and prosperity of the home; but this is a delusion. Those who sow selfishness will reap selfishness. In rejecting the love of Christ they reject that which alone can impart purity and steadfastness to human love. They will not only lose heaven, but will fail of the true enjoyment of that for which heaven was sacrificed. COL 224.2 – COL 225.1
Although there will be division caused by the truth, Christ wants us to be one, as He and the Father are one. I use to puzzle over how that would work, do we all just get together and try to unify?
I found a quotation that was very helpful.
The cause of division and discord in families and in the church is separation from Christ. To come near to Christ is to come near to one another. The secret of true unity in the church and in the family is not diplomacy, not management, not a superhuman effort to overcome difficulties- though there will be much of this to do- but union with Christ. Picture a large circle, from the edge of which are many lines all running to the center. The nearer these lines approach the center, the nearer they are to one another. Thus it is in a Christian life. The closer we come to Christ,  the nearer we shall be to one another. God is glorified as His people unite in harmonious action AH 179.1 – AH 179.3
What about persecution?
True, persecution will come.
2 Timothy 3:12 Yea, and all that will live godly in Christ Jesus shall suffer persecution.
Psalm 30:5 For his anger endureth but a moment; in his favour is life: weeping may endure for a night, but joy cometh in the morning.
2 Corinthians 4:17-18 For our light affliction, which is but for a moment, worketh for us a far more exceeding and eternal weight of glory; While we look not at the things which are seen, but at the things which are not seen: for the things which are seen are temporal; but the things which are not seen are eternal.
Matthew 5:10-12 Blessed are they which are persecuted for righteousness' sake: for theirs is the kingdom of heaven. [11] Blessed are ye, when men shall revile you, and persecute you, and shall say all manner of evil against you falsely, for my sake. [12] Rejoice, and be exceeding glad: for great is your reward in heaven: for so persecuted they the prophets which were before you.
Yes, persecution will come if we follow the truth and share it, but what really is the cost? Suffering on this earth is nothing compared to the joy of heaven.
Our Saviour is coming again, and he wants to find you all ready for his appearing. If you are ready, your eyes will be beholding Jesus and heaven your home. When trials come to depress and discourage you, you must talk faith, not doubt and despondency; you must place your eyes upon heaven and heavenly things. Says Paul, "Our light affliction which is but for a moment, worketh for us a far more exceeding and eternal weight of glory; while we look not at the things which are seen, but at the things which are not seen." Then let us keep talking of Jesus and his love; let us dwell upon the precious truths which he has intrusted to our keeping; let us show to the world around us that these truths are accomplishing something for us. How can the world tell of the value of the truth which you have received unless they witness the transforming effect on your character? When you have Christ abiding in your hearts by faith, you will bring his righteousness into your life and experience. RH August 5,  1890, par. 6
John 16:33 These things I have spoken unto you, that in me ye might have peace. In the world ye shall have tribulation: but be of good cheer; I have overcome the world.
Let us all study diligently, and share the truth with others, not looking to this world, but keeping our eyes focused on Jesus and as we come closer to Him we will become closer to one another.