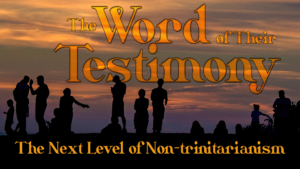 Was truly blessed yesterday watching some angels sermons you gave! Look forward to digging into that topic more. Amazing.
I just had to pause and say WOW out loud when you explained that the reason the judgment so conclusively clears God of all possible doubt is because he has done everything through angel witnesses!
I have always wondered how God really is cleared by the Great Controversy because I thought mostly the "Holy Spirit" was doing everything and angels were just tagging along as best they could to get in on some of the action haha!
In a way I knew that couldn't be true, but also I couldn't see how it wasn't true if that makes any sense. Now I am beginning to get the truth here. So exciting. This is truly the next level of non-trinitarianism as you say.