Hi Daniel.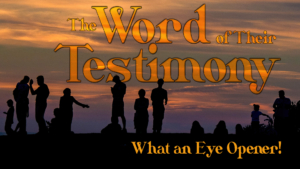 Thank you for you quick response to my email. Thank you for the information you have offered.
My wife and I have learned a lot from watching your videos and those of Allen's. It has only been within the last 12 months that we found that we were Tritheistic in our thinking and therefore Trinitarian. Wow!!! What an eye opener.
We were born and bred SDA's but resigned from the church in the early 1990's and have been home churching ever since. We hold to the KJB and the SOP only and now thanks to you and Allen we know the truth about God the Father and his Son Jesus Christ. The truth on this has been staring at us in the books all our lives yet we still did not see it. I guess the problem has been our incorrect understanding of some SOP quotes regarding the third person. God's mercy and patience knows no bounds. We are so thankful.
We believe God has called you to do a special work in these last days. We are watching with bated breath for the results that will surely come. May God continue to richly bless and keep you.
We know He will.