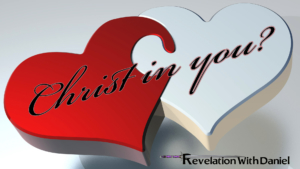 1) What does Christ in our hearts mean?
Galatians 4:6 And because ye are sons, God hath sent forth the Spirit of his Son into your hearts, crying, Abba, Father.

"Christ dwelling in our hearts by faith MEANS the CONTEMPLATION of Christ, BEHOLDING Christ, ever CHERISHING the dear Saviour as our very best and honored Friend, so that we would NOT in any action GRIEVE and OFFEND Him." 11LtMs, Lt 40, 1896, par. 1
2) What part of Christ is actually in us?
Philippians 2:5 Let this mind be in you, which was also in Christ Jesus.

"Those who do the words of Christ will perfect a Christian character, because CHRIST'S WILL is THEIR WILL. THUS is Christ formed within, the hope of glory." PH028 8.2, 6LtMs, Ms 1a, 1890, par. 18
3) When our self dies, what takes its place?
Galatians 2:20 I am crucified with Christ: nevertheless I live; yet not I, but Christ liveth in me: and the life which I now live in the flesh I live by the faith of the Son of God, who loved me, and gave himself for me.
"Self dies, and Christ's WILL becomes our WILL; His WAY becomes our WAY." 15LtMs, Ms 55, 1900, par. 4
4) When we repent and receive Christ, what does that mean?
John 1:12 But as many as received him, to them gave he power to become the sons of God, even to them that believe on his name.
"If we repent of our transgression, and receive Christ as the Life-giver, our personal Saviour, we become ONE with him, and our WILL is brought into HARMONY with the DIVINE WILL." ST June 17,

 

1897, par. 14
5) When Christ lives in us does that mean we have a disembodied, ghost-like, non-entity that actually lives inside of us?
James 2:26 The body without the spirit is dead.